If you own a BMW, the only way to obtain and analyze the onboard computer's fault codes is with the GT-1. Performance Motor Works has invested significant resources to provide our technicians with the best test and diagnosis equipment available. We work on all BMW automobiles in a timely and efficient way to provide our customer's with the highest quality at an affordable price. So, just in case you are wondering what the heck is a GT-1?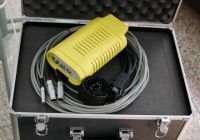 Self-contained diagnosis computer for the workshop, reception and final inspection. For reading out fault code memories of vehicle systems with self-diagnosis capabilities, for encoding/programming control units directly on the vehicle.
The new Group Tester One satisfies the more demanding customer requirements with regard to speed, integration in existing networks and reliability. The Group Tester One can be used in connection with all BMW model series, MINI and for all Rolls-Royce models as from 2003. It replaces the MoDiC III diagnosis tester introduced in 1998 (service data and new diagnosis data have been available for this tester since July 2002). Besides its introduction in the passenger vehicle dealership network, by 2005 the basic Group Tester One unit will also replace the MoDiTeC diagnosis tester used at BMW Motorrad (BMW Motorcycles).
Along with the DISplus, the GT1 is the second central module in the further successful expansion of information provision and technology systems. The diagnostic head known from the DISplus is also used unchanged on the GT1.
Added to this, the Interface Box (MIB) measuring system has been available since November 2003. It expands the basic measuring functions of the GT1 to the level of the DISplus measuring system.
Thanks to its flexible design, the workshop trolley decisively improves the mobility of the GT1 and MIB.